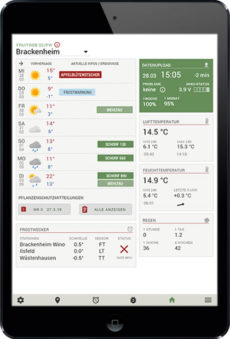 The fruitweb app presents complex relationships in a simple and clear way. In the app you will find current weather data with local weather forecast, forecast models and the fruitweb frost alarm clock. The heart of the app is your personal overview page. Here you can see the current weather data of your station, a view of diseases and pests, and a weather forecast. Furthermore you monitor the status of your Frostwecker and Weather Station.
Everything in view
On the start page you will find all important information. Status views of the weather station and the frost alarm, important events concerning diseases and pests, as well as the weather forecast with rain radar and storm warning.
Forecast models
We simulate numerous diseases and pests based on local weather data. The resulting diagrams and graphics can be viewed on both PC and smartphone.
Frostwecker
The Frostwecker is an innovative frost warning system and part of the fruitweb App. Clearly arranged graphics and numerous detailed information ensure that you keep an overview on frosty nights.
Consultation notices
Starting in 2020, the fruitweb app offers the possibility of receiving the messages of your counselling centre directly on your smartphone. Let us know if you are interested in this service.